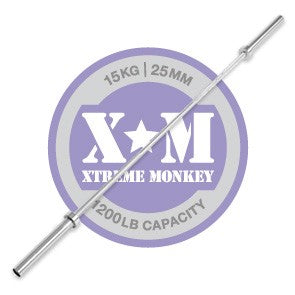 Xtreme Monkey Womens Lifting Bar 1200lbs
We wanted these bars to be the everyday go-to-bars no matter what you are training for (weightlifting, power lifting and fitness enthusiast). The 25mm bar represents a level of precision military grade engineering to date- 8 bearing, 200,000 PSI, 1200lb weight capacity.
This Alloy Steel 35lb bar is made with a hardened chrome finish and comes with a double ring and no centre knurling. The ends includes plastic cap to show off our signature XM logo.