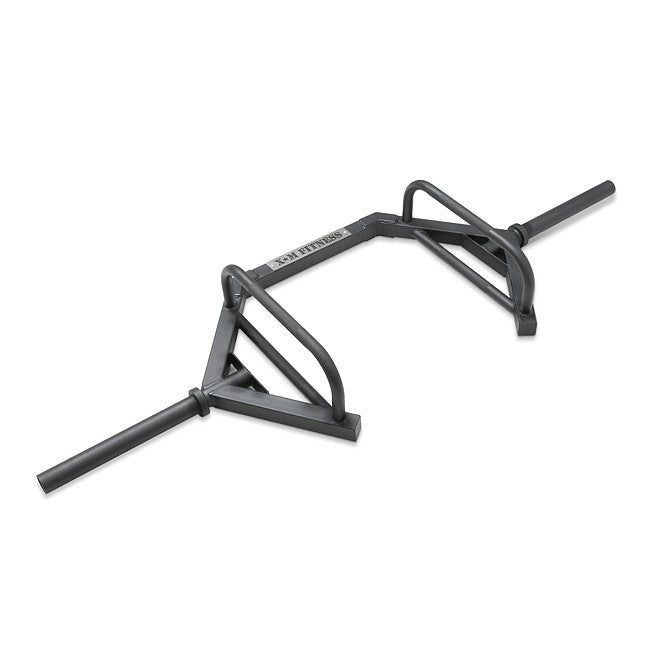 XM FITNESS STEP THROUGH OLYMPIC HEX / TRAP BAR
The Step Through Olympic Hex/Trap Bar gives the user the option of pulling from different heights thanks to the two handles the bar is equipped with. This product will help eliminate strain off the users back and is great for hip improvement when deadlifting.
The Step Through Olympic Hex /Trap Bar is a unique Olympic weightlifting bar meant for strength training, strongman lifts, and loaded carries. Traditional Olympic hex bars, or "trap bars", feature a box-frame construction and require the lifter to step inside the middle of the bar and between the weight load in order to complete deadlift and trap shrug exercises safely without the pressure of the bar rubbing against the shins and thighs.
The Step Through Olympic Hex /Trap Bar is an advanced version of the traditional hex bar and is more versatile and functional because of one important change. This multi functional bar has a step through open design on one side to allow the user to enter and exit the bar more easily while also providing the lifter with a greater range of motion for open movements and different sets of workouts for functional strength training.
The specialty design of the Step Through Olympic Hex /Trap Bar will increase the number of exercises you can do with one bar. Complete deadlifts, trap shrugs, lunges, overhead presses, stationary box lunges, single leg squats, plyo step ups, yolk carries, Zercher carries, Zercher squats, Zercher deadlifts, Farmers Walk carries (both single handed and two-handed), and more innovative exercises. And, in addition to functionality, the Step Through Olympic Hex / Trap Bar keeps your training sessions fresh, fun and interesting to help you advance in your strength routine!
Load Capacity: 500lbs
Grip Diameter: 1"
Comes Assembled: 65.5" x 23" x 21"
Bar Weight: 65lbs