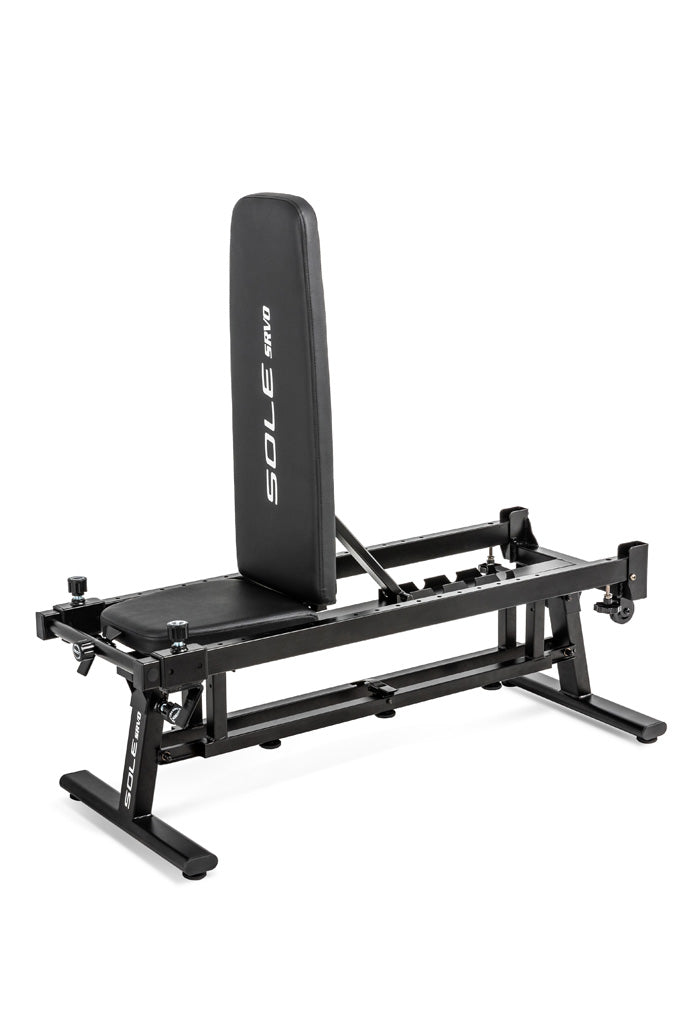 Introducing the revolutionary Sole SRVO Multi-Angle Bench, a vital component of the SRVO Complete bundle. Get ready to transform your fitness journey with this exceptional workout companion. Here are seven compelling reasons why the Sole SRVO Multi-Angle Bench is a must-have for your home gym:
Space-Saving Design: Say goodbye to cluttered workout areas! Our bench folds flat, allowing for effortless storage that fits perfectly under your bed. Maximize your space while enjoying the convenience of having a versatile bench always within reach.
Heavy-Gauge Steel Frame: With an impressive weight capacity of 540 lbs, the Sole SRVO Multi-Angle Bench is built to endure the most demanding workouts. It provides unparalleled stability and reliability, ensuring your safety and comfort as you push your limits.
Effortless Mobility: No more lugging heavy equipment around! The onboard wheels make it a breeze to move and position the bench wherever you desire. 
Limitless Versatility: Elevate your exercise routine with the Sole SRVO Multi-Angle Bench's multiple back pad angles at 0, 35, 55, 72 and 88 Degrees. Designed to support various workouts, you can effortlessly target different muscle groups and achieve optimal results. Experience the ultimate versatility that takes your fitness journey to new heights.
Swift Adjustments, Seamless Performance: Our bench boasts a built-in rack featuring an impressive 16 quick change adjustment levels. This convenient, easy-to-use design allows for lightning-fast modifications, ensuring a smooth and uninterrupted workout experience.
Perfectly Paired with SRVO: The Sole SRVO Multi-Angle Bench is meticulously designed to seamlessly integrate with the SRVO system. The multi-point padded contact system allows you to perfectly position the SRVO Multi-Angle Bench anywhere on the SRVO Strength Trainer. Experience the perfect synergy between the bench and SRVO-specific workouts, unlocking the full potential of your fitness routine. 
Exclusive SRVO Bench Workouts on SOLE+: Elevate your fitness game with the dedicated SRVO bench workouts available on our state-of-the-art SOLE+ app. Unleash the expertise of professional trainers who have designed targeted routines specifically for the SRVO Multi-Angle Bench. 

Transform your fitness journey with the SRVO Multi-Angle Bench today and unlock a whole new world of possibilities. Elevate your workouts, maximize your space, and achieve unparalleled results. It's time to take your fitness to the next level with Sole SRVO.