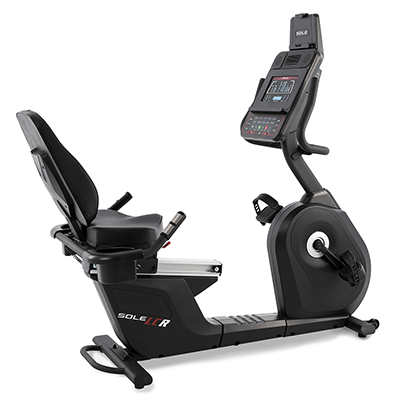 ***CALL FOR COMMERCIAL PRICING***
Sole Fitness LCR Recumbent Bike
The SOLE Light Commercial recumbent cycle (LCR) is the perfect piece of exercise equipment for almost every need. Built to be durable using quality materials, the SOLE LCR has set a new standard for indoor recumbent exercise cycles.
At SOLE our designers have engineered a light commercial recumbent cycle that holds up under consistent use and provides support and comfort to all users. Stable and durable, the SOLE LCR boasts 40 levels of resistance to challenge any user regardless of their fitness level. The supportive back and adjustable seat, stationary handlebars, and seat-mounted side handlebars with heart rate grips are perfect for the needs of multiple users. The LCR is ideal for use in light commercial settings or smaller spaces as it is compact and easy to set up.
The SOLE LCR is an ideal workout for any workout level and a comfortable and versatile method toward achieving fitness.
Purchase of the SOLE Fitness LCR recumbent cycle includes premium threshold delivery meaning your cycle is delivered directly to the first dry area of your home: inside your front door, garage, or inside the front lobby of your building, and will not be left on your curb.
The LCR is now equipped with Bluetooth technology allowing users to record workout feedback from their cycle to an Android or Apple smart device, and track fitness info on the free SOLE FITNESS APP, or transfer it to compatible fitness apps. SOLE FITNESS APP, or transfer it to other compatible fitness apps.
SOLE Cycle Technology
At SOLE, we have designed our exercise cycles to meet consumer needs and allow you to work out on your own terms. The natural, comfortable feel of SOLE cycles has been created with an ergonomic design, adjustable seating, a large easy to view console display, and a strong durable frame. Using only premium components, SOLE has focused on ergonomic design without sacrificing quality.
---
Bluetooth Technology
SOLE Fitness offers users the freedom to record workout feedback via Bluetooth from SOLE equipment to an Android or Apple smart device. Users' workout feedback is automatically saved to the integrated personal calendar, and the data can also be downloaded to the free SOLE FITNESS APP, or transferred to compatible fitness apps (Fitbit, iHealth, Record, Map My Fitness, MyFitnessPal, and other open source training apps).
---
Pedal Design
The ergonomic design of SOLE cycles is unique due in part to our precise pedal design. The 2° inward tilt of the pedals helps prevent aches in the knees and feet by aligning the joints in a natural position during a workout.
---
Adjustable Seating
SOLE cycles feature adjustable seating to ensure all users are able to customize the seat position to their specific requirements, ensuring all users are in the correct position to maximize each workout.
---
Display
Easy console viewing helps to prevent frustration during your workout. With your workout feedback and progress displayed on a large screen, it is easier to keep your workout goals in view.
---
Durable Frame
A strong durable frame is the foundation of SOLE Fitness cycles. Heavy steel tubing makes our indoor cycles durable, light, and manageable. Dual transport wheels at the front of each frame help make moving the cycles easy and convenient.
Specifications:
10.1" high-resolution illuminated LCD screen, cooling fan and built-in sound system with MP3 compatibility
10 challenging programs and 40 levels of resistance
31lb/ 14 kg magnetic flywheel and V-belt drive system
Deluxe oversized pedals with 2° inward slope
Bluetooth technology with SOLE Fitness™ APP compatible with FitBit, iHealth, MyFitness Pal
Warranty:
Residential Warranty:
Frame:
Lifetime
Parts:
5 years
Labour:
2 Years
Commercial Warranty:
Frame:
Lifetime
Parts:
3 years
Labour:
1 Year