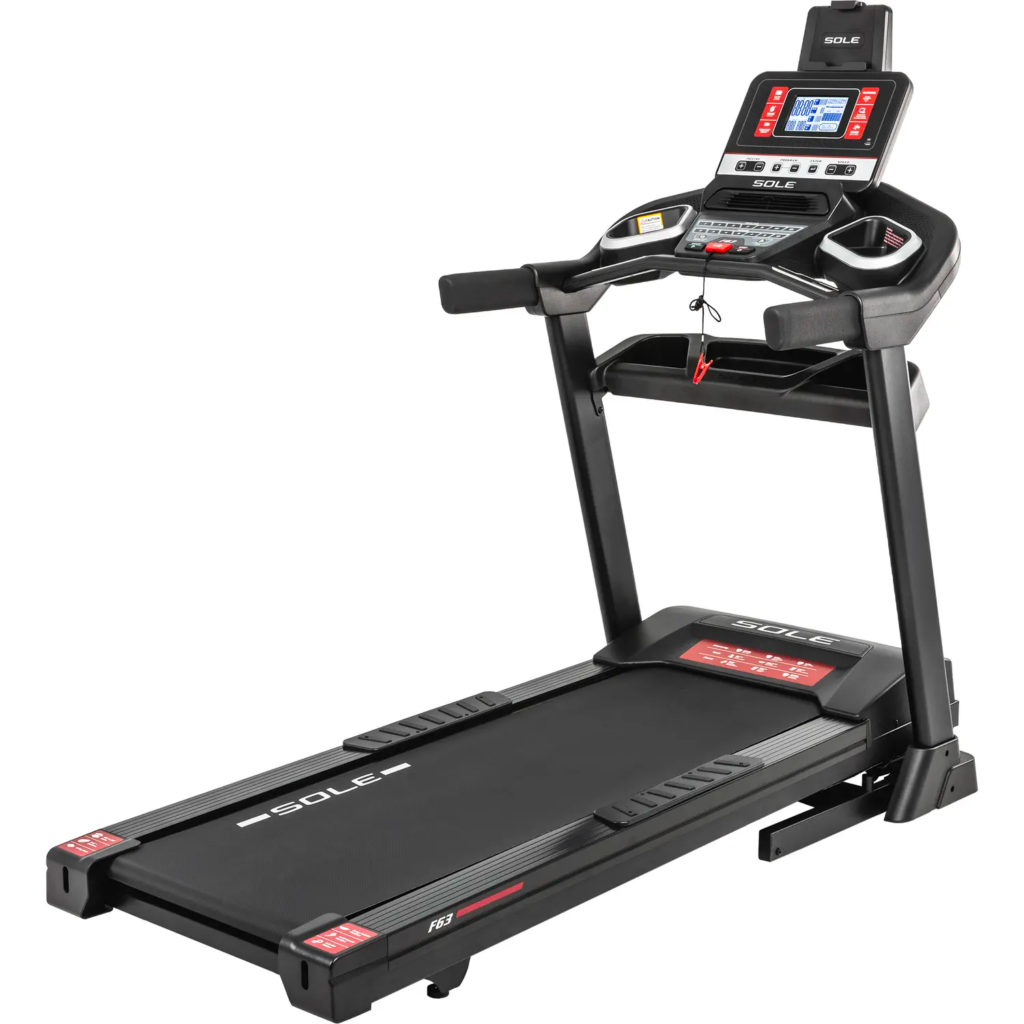 NEW! SOLE Fitness F63 Treadmill
The F63 treadmill has been reviewed as "Simply the best quality treadmill in its price range" and "an unbelievable value" by numerous consumer resources and magazines. SOLE has earned a reputation for building quality treadmills using the best components and the F63 is no exception, even at its lower price point. The strong, 3.0 CHP motor delivers challenging speeds up to 12 mph and inclines up to 15 levels, and can run up to ten programs including targeted cardio training and fat burning programs.
The treadmill deck folds to lock safely in place when not in use. Other safety features of the F63 treadmill include a large stop switch, start speeds from only 0.5 mph, and a low-profile running hood that will not get in the way of your stride.
The F63 treadmill console is user friendly with a vibrant white display. The information that is displayed at all times include Speed, Incline, Time, Distance Traveled, Calories, Pulse and Pace. There is also a 1/4 mile track feature and a Peak and Valley graph for different programs.
The F63 is equipped with Bluetooth technology allowing users to record workout feedback from their treadmill to an Android or Apple smart device, and track fitness info on the free SOLE FITNESS APP or transfer it to other compatible fitness apps.
This model includes an integrated tablet holder. This allows you to use your smart devices to watch shows or follow your workout routines. Seamlessly listen to music through the Bluetooth 3.0 Audio Speakers from any enabled smart device or connect your device through the included auxiliary cable. Also included is a USB port to charge your smart devices while working out.
The engineering team at SOLE strive to exceed consumer expectations. Through emphasizing quality design, they consistently create quiet, stable, and durably made treadmills. Loaded with comfort features from the cushioned deck to the cooling fan, and with a lifetime warranty on treadmill frames and motors, SOLE treadmills have been crafted with you in mind.
Seamlessly listen to music through the Bluetooth 3.0 Audio Speakers from any enabled smart device. SOLE Fitness offers users the freedom to record workout feedback via Bluetooth from SOLE equipment to an Android or Apple smart device. Users' workout feedback is automatically saved to the integrated personal calendar, and the data can also be downloaded to the free SOLE FITNESS APP, or transferred to compatible fitness apps (Fitbit, iHealth, Record, Map My Fitness, MyFitnessPal, and other open source training apps).
SOLE Fitness is proud to offer the best folding treadmill design on the market. Our patented all gear rack & pinion system with Safety Lock Deck design secures the deck in place while the treadmill is in the upright position. The Easy Assist Folding deck design is unique to SOLE and allows for convenient and simple unfolding of your treadmill.
SOLE treadmill consoles feature quick speed and incline buttons making it extremely convenient and easy to control and maintain your workout.
The unique design of SOLE treadmill decks provide users with a comfortable and quiet workout as well as reducing impact up to 40% as compared to running on asphalt.
The durability of SOLE products begins with a strong frame capable of handling multiple users of varying weight and height. The precise welds and quality steel of SOLE treadmill frames ensure their strength, stability, and durability.
The large LCD displays on SOLE consoles help to make each workout more effective. A vibrant screen and large, clean readouts provide users with helpful feedback and relevant information according to the chosen program, and continuously updates as you exercise to keep you informed of your progress.
SOLE is proud to offer integrated message boards on most of our treadmill models. An alphanumeric text centre sends scrolling messages to the user as guidance through the details of each workout. This user-friendly feature can help you to understand the full capabilities of our treadmills at times when accessing the user manual may not be convenient. The message board is also able to recap an entire workout and allow you to see the progress you've made.
All SOLE treadmills feature the heaviest duty motors and chassis in their class. Industrial quality motors are used in conjunction with large diameter, all-steel, zinc coated, and balanced flywheels for a vibration-free and secure running/walking surface. The flywheel extends the life of the motor by allowing it to run cooler and with a lower amperage draw while their heavier weight lends to the same fluid motion found on commercial grade treadmills.
SOLE treadmills feature large rollers meaning a larger contact surface with the belt contributing to even movement and longer roller and belt life. Large rollers with a sealed bearing design and copper ground wires reduce static as you exercise making for a smooth, quiet motion that will stand the test of time.
Comprised of rubber for durability, PVC to prevent over-stretching, and nylon providing a smooth, static-free surface to glide over the deck and rollers, SOLE treadmill belts are built to last and keep you moving worry-free along the path to your workout goals.
SPECIFICATIONS
20" x 60" folding cushion flex whisper deck with 2-ply belt and oversized 2.5" tapered rollers
3.0 CHP - continuous horsepower motor
Speed: .

5 - 12 mph - Handlebar mounted speed & 7 console quick keys 

Incline: 0 - 15 levels - Handlebar mounted incline & 7 console quick keys

6.5" white backlit LCD screen
Cooling Fan
Display Feedback: 

Time, speed, distance, calories, pulse, incline, program

10 Program options - 6 standard, 2 custom, 2 heart rate with 7 quick speed and 7 power incline buttons Includes:  Bluetooth speakers, USB charging port, and adjustable/removable tablet holder
Heart Rate: contact grips on stationary bars, includes chest strap
Bluetooth technology with SOLE Fitness™ APP compatible with FitBit, iHealth, MyFitness Pal
User Weight: 325lbs
Assembled: 

83" L x 35" W x 66" H

Folded:

46" L x 35" W x 71" H

Product Weight: 247lbs
WARRANTY
Frame & Motor: Lifetime
Deck: 3yrs
Parts: 3yrs
Labor: 1yr