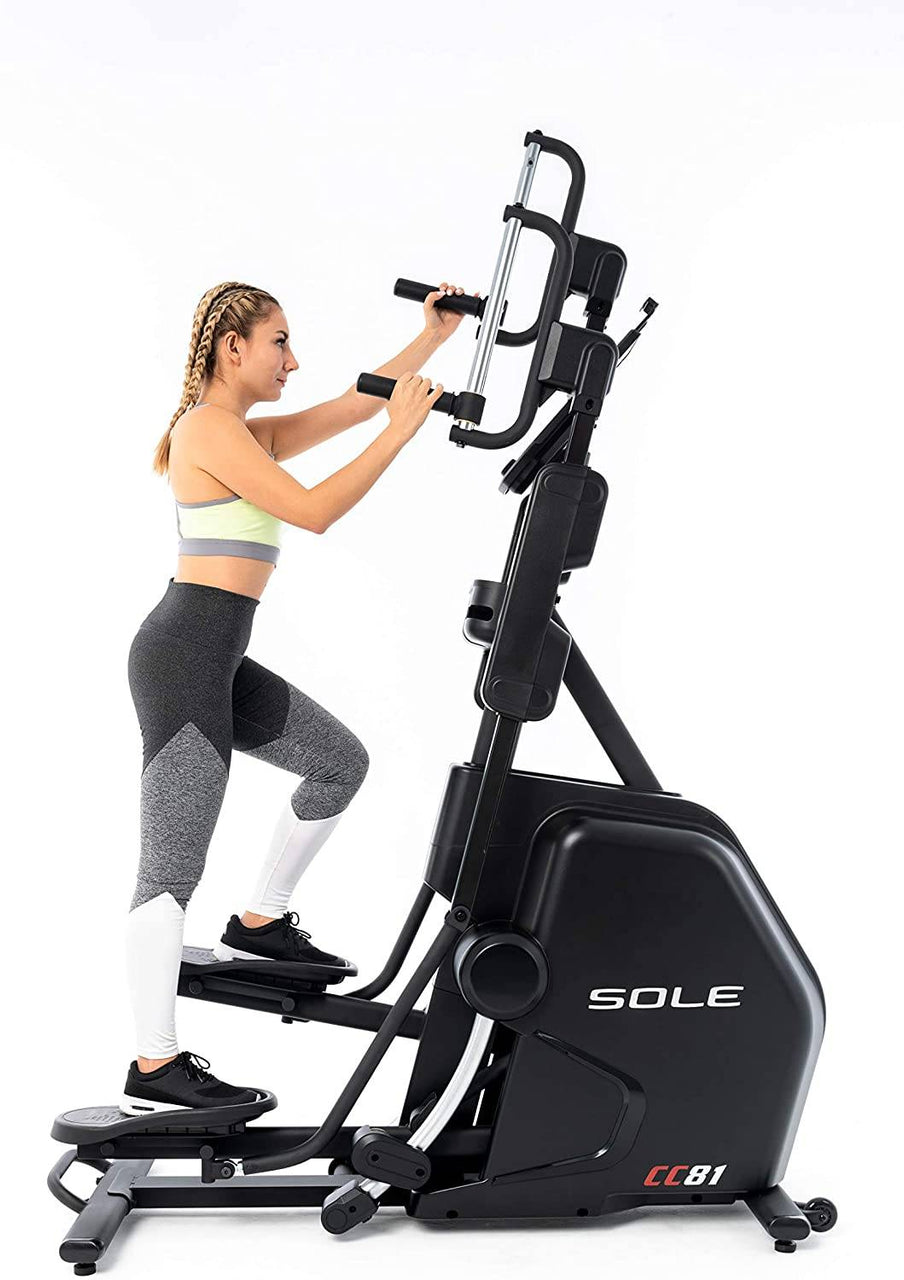 SOLE Fitness CC81 Cardio Climber
Step up to the challenge with the SOLE CC81 Cardio Climber. Burn more calories with less time spent using this machine designed for high-intensity interval training (HIIT). Combining a climbing motion with intense upper body movement the CC81 activates more muscles throughout your entire body for a comprehensive total body workout.
This SOLE Cardio Climber provides high-intensity interval training (HIIT) workouts to quickly burn fat and calories. The climbing motion allows for a total body, vertical workout by activating and simultaneously engaging core muscle groups. Arms, torso, glutes, quads, even your abs will naturally develop from this full body aerobic fitness machine. Burn more calories with less time spent. Simple, effective home workout that respects your commitment and produces results making it the perfect full body workout tool.
The CC81 includes an integrated tablet holder. This allows you to use your smart devices to watch shows or follow your workout routines.
The engineering team at SOLE strive to exceed consumer expectations. Through emphasizing quality design, they consistently create quiet, stable, and durably made machines. SOLE elliptical trainers combine great, low-impact exercise and natural movement with all the best features and upgrades. Designed to accommodate your stride, SOLE ellipticals allow you to forget about the machine and focus on your workout.
Large 12.7 cm (5 in.) high-resolution LCD screen with integrated scrolling alphanumeric message board to guide you throughout your workout. 6 workout programs including: Manual, Hill, Fat Burn, Cardio, Strength, HIIT. Integrated phone/tablet holder to display your smart devices while training.
11 kg (25 lb) ECB system precision balanced flywheel provides a smooth, comfortable motion. Dial operated computerized auto tension resistance with built-in heart rate receiver (chest strap not included). Front drive system. Sealed commercial bearings and premium bushings.
Full body workout includes adjustable handlebars. Multiple position, fully adjusted hand grips allows for variance in workouts. Because the CC81 combines all the elements of climbing, you can be confident in knowing that your entire core and extremities will get the necessary workout they need.
Oversized cushioned pedals with 2° inward tilt for correct body alignment and total comfort. SOLE's power resistance offers additional and varied workout positions at your fingertips.
THe SOLE climber frame is built strong and sturdy to last throughout years of use. Made of heavy duty steel, it is ergonomically designed to simulate smooth and continuous elliptical exercises using natural climbing motion. Concave wheels on dual aluminum rails for premium motion, stability and durability. Transport wheels and levelers included.
These unique foot pedals were developed by SOLE engineers in collaboration with a leading physical therapist. A 2° inward slope to the foot pedals reduces ankle and knee stress common in other fitness machines. This feature helps reduce the pain and numbness in toes and the sore Achilles tendons some other training equipment may contribute to.
Specifications:
Resistance: Dial operated 1-20 levels computerized auto tension resistance
Heart Rate: Wireless receiver, chest strap compatible - chest strap mot included
Standard Programs: - 6
Console Display: 5" white backlit LCD screen with built-in phone/tablet holder
Display Feedback: Time, calories, SPM, level, vert, FLS, FPM, level, heart rate, program
12" vertical step height with a 25 lb flywheel, smooth track rail
Power resistance for an intense full-body workout
5" white backlit LCD screen
Program options and multi-adjustable hand grips
Oversized 15" pedals with 2° inward tilt for comfort
Fully adjustable tablet holder included
Max User Weight: 400lbs
Assembled Weight: 220lbs
Assembled DIMS: 59"L x 31"W x 86"H
Warranty:

Frame: Lifetime
Parts: 5yrs
Labor: 2yrs