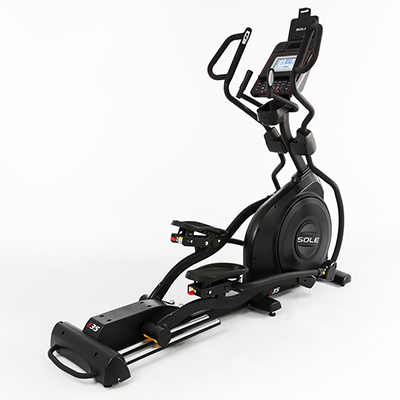 NEW!!

Sole Fitness E35 Elliptical
The SOLE E35 elliptical trainer was designed to help you focus on your workout, and is loaded with the features you need to meet your fitness goals. Maximize the time and effort you put into keeping fit with a total body workout that is easy on your joints.
The E35 is engineered for an extremely smooth feel, even with increased resistance for when you want a more challenging workout. Fluid natural motion is ensured by four wheels gliding along dual rails and functions in both forward and reverse. Multi-grip position handlebars enable users to find the most comfortable and ergonomic positions to grasp the handles, while oversized foot pedals situated at a 2° inward angle, and 3-position articulating foot beds sustain your body's natural position and reduce impact on the joints and muscles. The E35's power incline feature offers additional resistance and variable positions, allowing you to individually target major lower body muscle groups while the articulating handles provide upper body exercise for a total body workout. With the included wireless chest strap or built-in hand pulse grips, you can monitor your heart rate during your workout.
The E35 elliptical console is user friendly with a large vibrant display to help track your progress, while the integrated cooling fan helps keep you fresh even during intensive training, and built-in speakers allow you to hook up any MP3 player for easy listening while you exercise.
A sturdy and durable machine, the SOLE E35 elliptical trainer will help get you on the path to developing your body from the inside out with an intense cardio workout that is easy on your knees and ankles.
The E35 is equipped with Bluetooth technology allowing users to record workout feedback from their cycle to an Android or Apple smart device, and track fitness info on the free SOLE FITNESS APP, or transfer it to other compatible fitness apps.
This model includes an integrated tablet holder. This allows you to use your smart devices to watch shows or follow your workout routines. Seamlessly listen to music through the Bluetooth 3.0 Audio Speakers from any enabled smart device or connect your device through the included auxiliary cable. Also included is a USB port to charge your smart devices while working out.
SOLE Elliptical Technology
The engineering team at SOLE strive to exceed consumer expectations. Through emphasizing quality design, they consistently create quiet, stable, and durably made machines. SOLE elliptical trainers combine great, low-impact exercise and natural movement with all the best features and upgrades. Designed to accommodate your stride, SOLE ellipticals allow you to forget about the machine and focus on your workout.
---
Bluetooth Technology
Seamlessly listen to music through the Bluetooth 3.0 Audio Speakers from any enabled smart device. SOLE Fitness offers users the freedom to record workout feedback via Bluetooth from SOLE equipment to an Android or Apple smart device. Users' workout feedback is automatically saved to the integrated personal calendar, and the data can also be downloaded to the free SOLE FITNESS APP, or transferred to compatible fitness apps (Fitbit, iHealth, Record, Map My Fitness, MyFitnessPal, and other open source training apps).
---
Multi-position Handles
SOLE's stationary and articulating handle designs enable users to find the most comfortable and ergonomic positions to grasp the handles, making workouts more enjoyable and effective. With both articulating and stationary handles, you have the freedom to choose what works for you. Hand pulse heart rate sensors are integrated into the stationary bars.
---
Upgraded Handlebars
Multi-functional "D" shaped handlebars for ultimate comfort, correct positioning and convenience with built in adjustable incline and resistance buttons. Stationary handle bars with built-in pulse sensors for monitoring your heart rate. A heart rate chest strap is also included for hands free pulse monitoring and heart rate interactive programs.
---
Custom Designed, Articulating Foot Pedals
Our unique foot pedals were developed by SOLE engineers in collaboration with a leading physical therapist. A 2° inward slope to the foot pedals reduces ankle and knee stress common in other elliptical machines. This feature helps reduce the pain and numbness in toes and the sore Achilles tendons some other elliptical trainers may contribute to.
---
Power Incline
SOLE's power incline offers additional resistance and varied workout positions at the touch of a button. Adjustable ramp angles from 0 to 20 levels of incline allows users to target certain or all lower-body muscle groups during a workout.
---
Durable Frame
SOLE elliptical frames are built strong and sturdy to last throughout years of use. Made of heavy duty steel, they are ergonomically designed to simulate smooth and continuous elliptical exercises using your natural stride.
---
Large Display Screen
The large LCD displays on SOLE consoles help to make each workout more effective. A vibrant white screen and large, clean readouts provide users with helpful feedback and relevant information according to the chosen program, and continuously updates as you exercise to keep you informed of your progress.
SPECIFICATIONS
20" stride length with 25 lb flywheel for smooth dual track rail with forward and reverse motion
Power incline changes elliptical motion to target multiple muscle groups
7.5" white backlit LCD screen with adjustable console
10 program options and D-type, multi-grip handlebars with integrated incline and resistance controls
Oversized cushioned pedals with 2° inward tilt and 3 position adjust for total customization and comfort
Bluetooth technology with SOLE Fitness™ APP compatible with FitBit, iHealth, MyFitness Pal
Includes Bluetooth speakers, USB charging port, and adjustable/removable tablet holder
Machine Dimensions:
Footprint (in.): 82" L x 32.5" W x 71" H
Maximum Pedal Height * (in.): 23.4"
Item Weight (lbs.): 244 lbs.
User Weight Capacity (lbs.): 375 lbs.
Stride Length: 20"
Flywheel (lbs.): 25 lbs.
Carton Dimensions: 66" L x 22.5" W x 34" H
Shipping Weight (lbs.): 272 lbs.
WARRANTY:
Frame: Lifetime
Parts: 5yrs
Labor: 2yrs