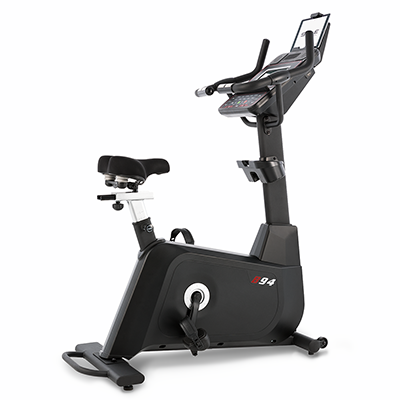 NEW!! SOLE Fitness B94 Upright Bike 
The stationary cycle has long been one of the most popular items of home exercise equipment. They are known for being light weight, durable, easy-to-use, and space saving, and the SOLE B94 stationary cycle is no exception.
The SOLE B94 provides a workout that is challenging, but comfortable and convenient. The adjustable gel seat, strong frame and ergonomically designed pedals allow the machine to conform to your needs while the straightforward programs, 9" LCD monitor, and included chest belt help you to spend time clearly focusing on your fitness goals.
With ten challenging programs to choose from and extras like a water bottle holder, the SOLE B94 provides the perfect workout for anyone. It is the ideal fitness tool for users just starting out as well as those in regular training. Design your own exercise routine using our preset programs, and personalize it further with our user defined feature. No matter your fitness goals, the B94 has you covered
The B94 is equipped with Bluetooth technology allowing users to record workout feedback from their cycle to an Android or Apple smart device, and track fitness info on the free SOLE FITNESS APP or transfer it to other compatible fitness apps.
At SOLE, we have designed our exercise cycles to meet consumer needs and allow you to work out on your own terms. The natural, comfortable feel of SOLE cycles has been created with an ergonomic design, adjustable seating, a large easy to view console display, and a strong durable frame. Using only premium components, SOLE has focused on ergonomic design without sacrificing quality
Seamlessly listen to music through the Bluetooth 3.0 Audio Speakers from any enabled smart device. SOLE Fitness offers users the freedom to record workout feedback via Bluetooth from SOLE equipment to an Android or Apple smart device. Users' workout feedback is automatically saved to the integrated personal calendar, and the data can also be downloaded to the free SOLE FITNESS APP, or transferred to compatible fitness apps (Fitbit, iHealth, Record, Map My Fitness, MyFitnessPal, and other open source training apps).
The ergonomic design of SOLE cycles is unique due in part to our precise pedal design. The 2° inward tilt of the pedals helps prevent aches in the knees and feet by aligning the joints in a natural position during a workout.
SOLE cycles feature adjustable seating to ensure all users are able to customize the seat position to their specific requirements, ensuring all users are in the correct position to maximize each workout.
Easy console viewing helps to prevent frustration during your workout. With your workout feedback and progress displayed on a large screen, it is easier to keep your workout goals in view.
A strong durable frame is the foundation of SOLE Fitness cycles. Heavy steel tubing makes our indoor cycles durable, light, and manageable. Dual transport wheels at the front of each frame help make moving the cycles easy and convenient.
SPECIFICATIONS
9" high-resolution illuminated LCD screen, cooling fan and built-in sound system with MP3 compatibility
Built-in wireless heart rate receiver with chest belt
10 challenging programs
20lb/ 9 kg magnetic flywheel and V-belt drive system
Deluxe oversized pedals with 2° inward slope
Bluetooth technology with SOLE Fitness™ APP compatible with FitBit, iHealth, MyFitness Pal

Footprint (in.): 48.5" L x 23" W x 60" H

Item Weight (lbs.): 102 lbs.

User Weight Capacity (lbs.): 300 lbs.

Carton Dimensions: 46.5" L x 18.5" W x 31" H

Shipping Weight (lbs.): 128 lbs
Warranty:
Frame:Lifetime
Parts:3 Years
Labour:1 Year