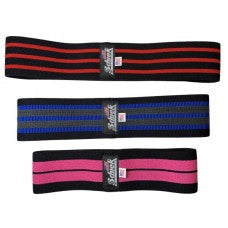 Schiek Hip Bands 
Schiek Hip Bands are Great for Warming up and Improving Flexibility.  They also allow you to tone, target and strengthen.  Available in 3 different sizes for the level of resistance you choose.  Made of Heavy Duty Cotton Elastic for Maximum Durability.
Proudly Made in the U.S.A.
Small - Pink - 13"
Medium - Blue - 15"
Large - Red - 17"
3 pack - Contains one of each size.