REH BAND RX KNEE SLEEVE - 5MM
RehBand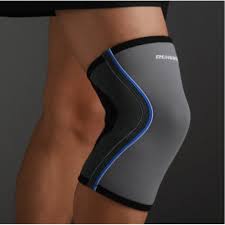 REH BAND RX KNEE SLEEVE - 5MM
This 5mm thick knee sleeve benefits you in a varied training where you require both agility and support.
The construction of the product is build on a unique patent, securing its anatomical fit. The shape allows the product to follow the body's motions. This creates a combined mental and physical frame to keep your body moving towards strength instead of injury. The knee support will guide your body in moving correctly without limiting muscle development around your knee. It combines the key benefits stability, compression and warmth. Stability offers a mental and physical feeling of safety. Compression helps preventing injuries and increases your muscle memory of how to move correctly. Warmth protects your joints and soft tissues from injury. Together these elements improve your performance capability.
The key functions of Rehband's supports are warmth, compression and a strengthening of the receptive input. These create a unique composition which together prevent injuries, enhance performance and ease rehabilitation of injuries. You will experience several result, specific to each product.

The Rehband Rx Knee Sleeve is classified as a medical device.
Cover: 100% Polymide

 

Foam: 70% SBR, 30% Neoprene

 

Lining: 100% Polymide