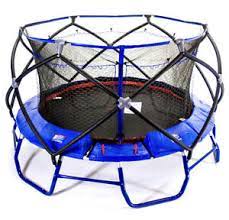 Monxter XT8 15ft Round Trampoline w/ Enclosure
Monxter trampoline wanted to set new standards in trampoline safety and bounce performance.
The Monxter XT8 15ft Round Trampoline and Enclosure Combo resets your expectations on backyard fun, safety, and durability.

This trampoline features 420lb weight capacity with an ultra durable, UV resistant TenCate Permatron® trampoline park quality jump mat built on a super heavy duty 3-inch dia thick walled, double galvanized, and powder coated steel frame.
Monxter trampoline is equipped with 10-inch springs that are double the size of standard springs used by competitors to ensure a consistent, deeper and higher bounce.
Monxter trampoline is all about safety. Powered by the foam padded, heavy duty X-frame enclosure, kids can soar to a new height of backyard fun and keep safe inside the trampoline. With the patented double enclosure netting, a fine and weather resistant inner mesh netting and an outer honeycomb pattern netting work together to prevent entanglement upon unexpected impact.
 ULTRA DURABLE and BUILT TO LAST: The trampoline frame is constructed of heavy duty 3" diameter, double galvanized and powder coated steel tubing that is built to support 6000 lbs of force, which is the same weight of 3 small cars. 
SAFETY MATTERS:  The curved enclosure X-frame and the patented double netting design works together to prevent contact to padded poles and entanglement on impact. The patent pending inner spring cover eliminates gaps between enclosure netting and the jump mat to keep jumpers safe from pinch points and openings. 
EXPERIENCE THE DIFFERENCE: Our 10-inch coil springs are double the size of standard springs used by competitors and independently tested for over 100,000 times to ensure the best coil tension. With the TenCate Permatron® jump mat that has high tensile strength and excellent UV, water, and mold protection, it allows the trampoline to offer the optimal bounce performance and to handle all trampoline exercise routines.
3-inch galvanized steel tube frame
10-inch springs that are double the size of competitor trampoline springs
Patented double netting enclosure
USA-engineered TenCate Permatron® jump mat tested for 5000 hours of UV light
Rigid X-frame design to increase net tension and prevent falling out
Thick foam padded spring cover to prevent leg and feet entanglement
Foam padded enclosure poles
Patent pending inner enclosure padding for additional safety
Entrance handles for safer entry and exit
Spring loading tool included
WARRANTY
Frame - 10yrs
Springs/Rod - 10yrs
Enclosure - 10yrs
Enclosure Poles - 10yrs
Jump Mat - 10yrs
Spring Cover - 5yrs
Pole Foam - 1yr