MD Buddy Olympic Crumb Rubber Bumper Plates
MD Buddy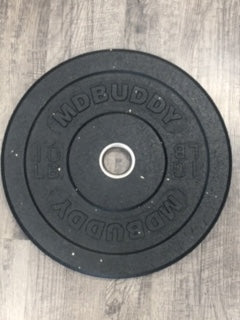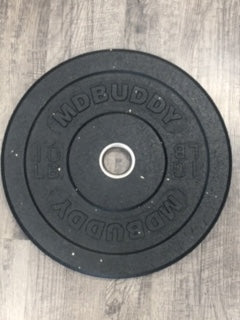 MD Buddy Olympic Crumb Rubber Bumper Plates

There is nothing worse than dropping a heavy barbell on your valuable floor and trying to catch it on the way down!
MD Buddy Olympic Crumb Rubber Bumper Plates offer a superior alternative to damaging your floor, your bar or your back.  Like regular rubber bumper plates, they are cost effective, easily identified, versatile and easy to manage.
They facilitate a full range of olympic lifts, and should those lifts become drops, they also protect your floors by dampening the "CLANG" of a falling barbell and allowing the bar to bounce instead of bend.  
Unlike regular rubber bumper plates, their composed of fused or glued "crumbs" of recycled rubber, as opposed to a solid shell of rubber coating.  Crumb rubber plates tend to bounce higher and offer decent bend due to their less-solid composition. Certainly, that difference is why crumb rubber plates tend to crumble rather than crack in response to impacts, so they can take more abuse – somewhere between 10,000 and 30,000 drops. However, they're not as strong as their solid rubber counterparts in one aspect – smell.
available in 10, 15, 25, 35, 45 & 55lbs
sold individually