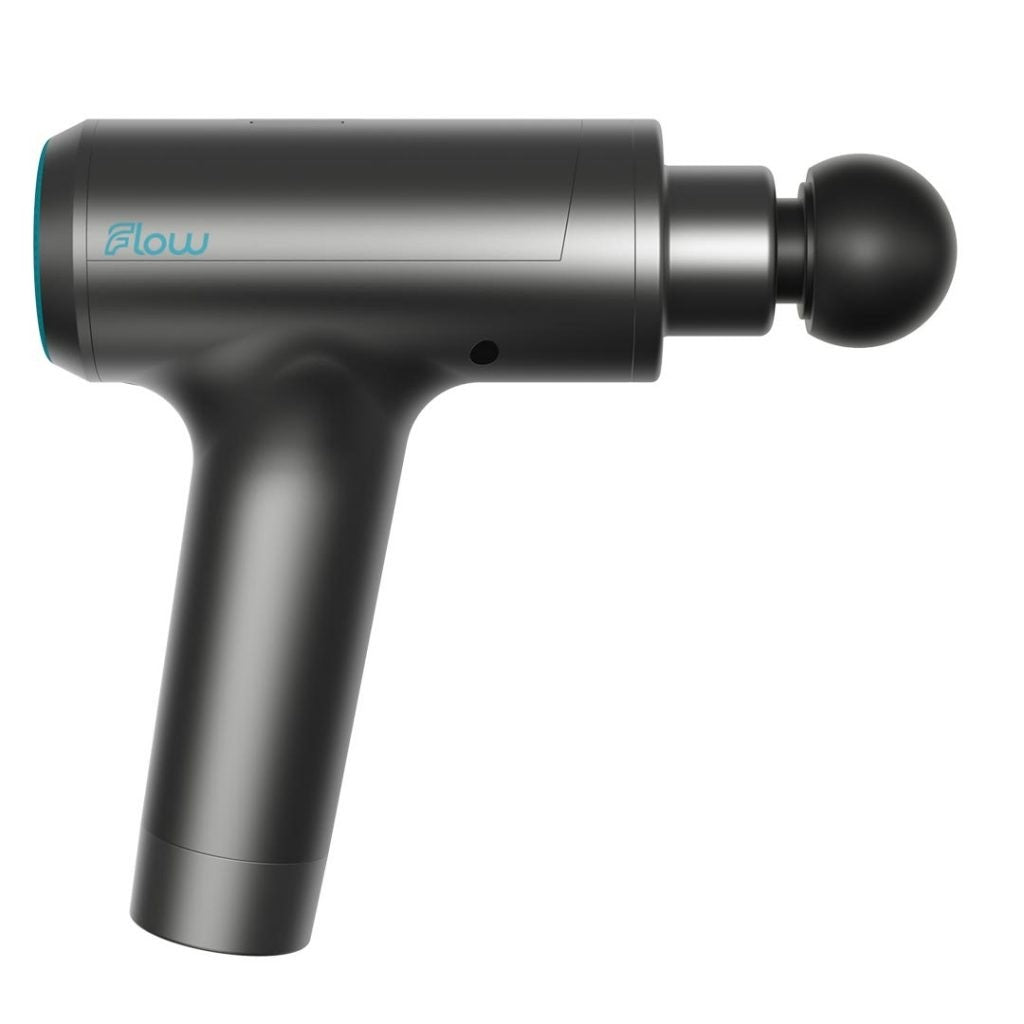 Flow Mini Massage Gun
A little does a lot of good.
The Flow MINI is a lightweight, ultra-portable handheld massager providing any user relief from pain –anywhere and at any time. It's scaled down for users with small hands and dialed down for users who could use the benefits of myofascial release but don't need the full-on athletic intensity of the Flow Pro Plus. You'll still enjoy the benefits of scrupulous design consultation with some of the world's foremost athletes, sports physiotherapists and professional sports teams – just in a more compact and affordable form.
With four levels of powerful vibration and four different massage heads, it offers an array of easy-to-use myofascial release options – allowing you to perform at your best while reducing your fatigue and relieving your muscle swelling and tension. It targets trigger points, aids the break up of scar tissues, accelerates the pre-exercise warmup of your muscles, and may help ease common muscle and joint pain.
FEATURES:
FOUR SPEEDS – Each one operates at a scientifically calibrated treatment frequency. The easy-to-use speed control takes you from Level 1 (1800 percussions per minute), which helps users with injury or delayed onset muscle soreness (DOMS) to Level 3 (3200 PPM). Your fourth speed is The unique Flow Wave Mode, which vibrates alternatively at all three of the other speeds.
FLOW FLOWHEADS™ – Four different attachments offer varying firmness and shapes (Medium, Hammer, Bullet & Fork). Each one is precisely engineered to deliver specific benefits targeted muscles, muscle groups, and other areas of the body.
LIGHTWEIGHT – Weighing under 3 lbs, the perfectly proportioned Flow MINI is portable and lightweight enough to access just about any location.
LONG LASTING – the MINI's powerful yet quiet high-torque motor is ready when you need relief, thanks to all-day battery endurance and fast charging times.
PORTABLE – comes with a convenient cloth carry bag with drawstring.
ATTRACTIVE – sleek, scaled-down design with available neon blue trim.
Specifications
Battery life: 2-3 hours with typical usage

 

Recharge time: 3 hours

 

Charging Method: A/C Wall Charger

 

Battery Type: 1500 

Mah

 Rechargeable Lithium-ion

 

Level 1 mode: 1800 percussions per minute 'PPM'

 

Level 2 mode: 2400 PPM

 

Level 3 Mode: 3200 PPM

 

Flow mode: 1800 through 3200 PPM

Available trim colour: Neon Blue 
DIMENSIONS: 
7"/18 cm L x 3.15"/8 cm W x 7.87"/20 cm H

 
WEIGHT: