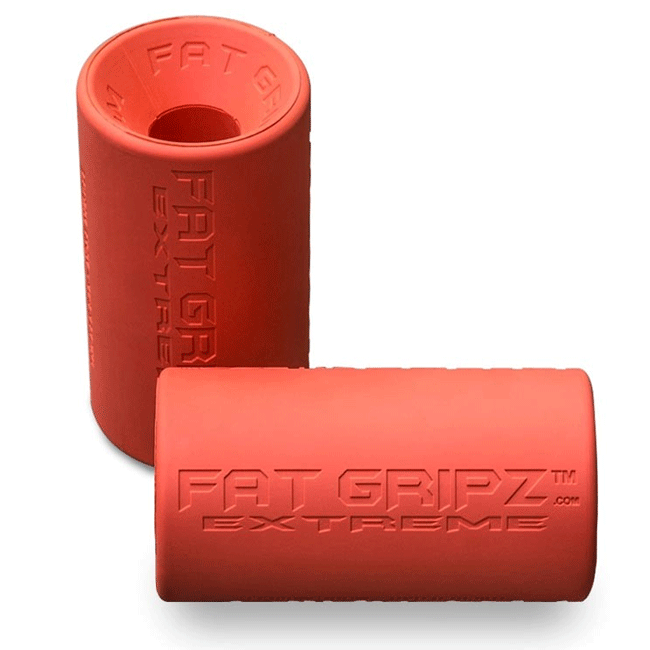 Fat Gripz Extreme
GET BIG with FAT GRIPZ! Weight Lifting - Strength Training - Powerlifting
Fat Gripz Extreme are a bar wrap that turns any standard bar or dumbell into a grip pounding thick handled monster. Use on your bars, dumbells, logs, pullup bars, cable attachements, or just about anything you can think of in the gym.
Fat Gripz turn any exercise into a forearm and hand strength building variation that will challenge you in new ways. Great for grip guys as well as any athlete that requires a great grip - football, crossfit, mixed martial arts, basketball, baseball, tennis, golf...you name it, Fat Gripz will increase your performance! Made of a special high density material, Fat Gripz will stand up to the abuse you throw at them. These little guys are great and have a great track record for producing tremendous results!
Fat Gripz Extreme are an eye catching bright orange and a whopping 2.75 inch diameter compared to their 2.25 inch little brother, the standard Blue Fat Gripz. Simply stated, Bigger Grip = Bigger Challenge & Better Results. If you thought the standard model was effective wait until you try the Extreme!
Fat Gripz are being used by thousands of athletes and military around the world for weight lifting, strength training and powerlifting, including members of the

 

US Special Forces, teams in the NFL, top MMA fighters and the Gracie Barra
Thick bar training with Fat Gripz immediately targets your body's weak links – increasing muscle activation and giving you

 

more strength and mass
Fat Gripz fit virtually all barbells, dumbbells, chin-up bars and cable attachments in seconds – making the bar

 

more than twice as thick
Made from a

 

military-grade high-density compound, they grip the bar like a clamp and don't compress – even when deadlifting extreme loads
Immediate Impact Guarantee:

 

You must feel the impact in your first workout