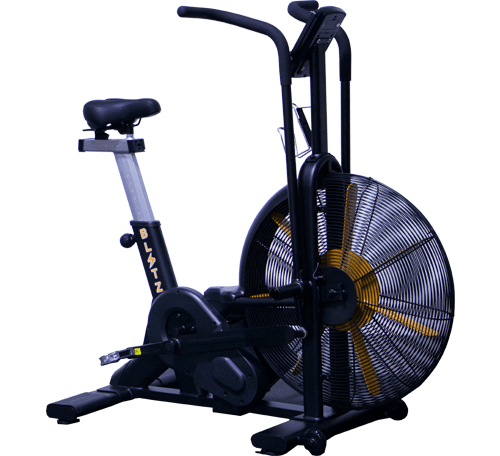 NEW!!!

Bells of Steel Blitz Air Bike 2.0
The Blitz Air Bike is the definitive choice for your home gym. Belt driven with an oversized fan and comes standard with wind guard, bottle and phone holder and a super comfy seat!  This fan bike is well suited to even the most die-hard garage gym athletes.
Air bike; two words that strike terror into the hearts of fat cells across the globe. If you've had the (dis)pleasure of riding one, you know just how effective they are and when it comes to cardio, and for a good reason; air bikes are arguably the best total body conditioning you can do.
You can find very few machines in a box, rowing machines are often a staple, but more and more gyms are outfitting their facilities with Air Bikes. These suckers were initially developed for seniors with limited mobility. But don't let that fool you, they are nothing if not a brutal form of conditioning. So much so that they've earned the nickname "Satan's Tricycle" and for a good reason.
We Need Cardio to Be at Optimum Health
It's not complicated; it doesn't matter who you are; you have to do some form of cardio. That ticker isn't going to maintain itself, and cardio speeds up your recovery. As winter creeps in, you're going to be inside more than you want to be, and Air bikes are a fantastic 'default ' exercise even for the most neglectful of cardio pursuers. The Fan Bike is an excellent way to smuggle cardio into your routine.
Air Bikes are Ideal for Tabata and Interval Training
Where the Air Bike truly shines as the de facto metabolic conditioning tool. Tabata, intervals, and the air bike are a match made in heaven. Changing up your routine can help push through those plateaus. Even popping on Netflix and casually cranking out a few miles is an excellent way to sneak in your cardio.
Just as important, using an Air Bike can also enhance your mindset. If you have ever used an Air Bike at high intensity, you know it isn't easy. When you get on it at a high intensity, it will indeed test your mental fortitude as your arms and legs swell with lactic acid, and scream for relief, it feels as though you are biking through fire.
Despite the name, your rest days indeed should not involve purely relaxing, if you are trying to minimize your recovery time.
Studies have shown time and time again that some light activity on your rest days, or even the day after a game, can lessen recovery time by providing mobilization and blood flow to flush out unwanted waste products, like lactic acid, lingering in your muscles. The Air Bike does just that, moving your entire body together, and increasing blood flow to all parts.
The bottom line is that an Air Bike is a must-have tool in your gym. It's perfect for recovery, long cardio stretches, and intervals. Plus, it'll give your grandmother more reason to come over and visit.
Belt Driven – Rather than using a typical link chain found on cheaper fan bikes, the blitz bike uses a heavy-duty rubber belt, typically seen in cars. This is superior for a few reasons:
– Less maintenance and fewer adjustments needed to be made over the lifetime of the bike.
– Smoother and more responsive ride so you can quickly change speed when doing intervals.
– Quieter than a chain.
Includes fan guard, phone and water bottle holder –These three small but important features are something you would normally overlook or not order on models that charge extra. But I can tell you right now when you're in the middle of a gruelling interval session
Huge fan –Typically less expensive airbike's skimp on the fan, opting for a smaller fan that offers less resistance. Not the blitz, you get that huge 25″ fan you're used to in commercial gyms at a home gym price.
It has a big, comfy adjustable seat – The seat can be adjusted front to back and up and down to your perfect spot.
The Console – Displays RPM, speed, interval times, distance, calories, watts, heart rate and is compatible with most heart rate straps.
Transportation and Storage –The blitz Air Bike comes with two wheels located at the front of the frame. Tilt the bike and roll out of the way for storage.
Beefy parts –The blitz fan Bike is built for both commercial and home use and used parts that not only look fantastic in your gym but are warrantied for two years and have a 350lb weight capacity.
Impressive warranty – Our warranty is simple, if your bike breaks within two years of the original date of purchase due to normal wear and tear and usage, we'll ship you a free replacement part and even help guide you through the installation by email/tutorial video. Click here for more details on all of our warranty coverage.
Specifciations:
Includes removable wind guard, bottle holder and phone holder. 
Pegs instead of foot plate
Comfortable ergonomic seat
Big 25″ Fan 
2 year warranty
Assembled dimensions: 118lbs 53 x 23 x 51 inches