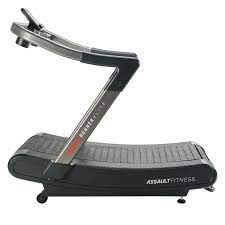 Assault AirRunner Elite
Assault Fitness Products have created the next best thing in elite fitness: The Assault AirRunner.
This premiere running machine packs an intense workout into a small package. The name says it all -- like running on air, but with a powerful amount of punch.
This Assault Treadmill is like none you have ever known, commercially built, burning up to 30% more calories than the average motorized version and designed to accommodate every fitness level, with unlimited possibilities.
 NON-MOTORIZED AND SUPER LIGHT:
A remarkable feature, the AirRunner runs on your energy, with zero electrical consumption and a low carbon footprint. You'll be amazed at what a hardcore workout can come from the power of your own two feet. The AirRunner is also the lightest treadmill available with a 33" width.
 OPTIMAL FOR INTERVAL TRAINING:
Because the Assault team knows the effectiveness of interval training, our treadmill was designed with HIIT in mind. Burning up to 30% more calories than a motorized treadmill, users can change speeds at will. In addition, this badboy has no maximum speed, so feel free to push it as hard as possible.
COMMERCIAL DURABILITY:
The AirRunner is well-appointed to kick your a** for years, built with a steel frame and handrails, corrosion resistant hardware, and a slat belt running surface that lasts up to 150,000 miles. That's right – that's not a typo: 150,000. There's no need for you to adjust the belt tension or replace the deck. This treadmill is the easiest to maintain that you'll find anywhere.