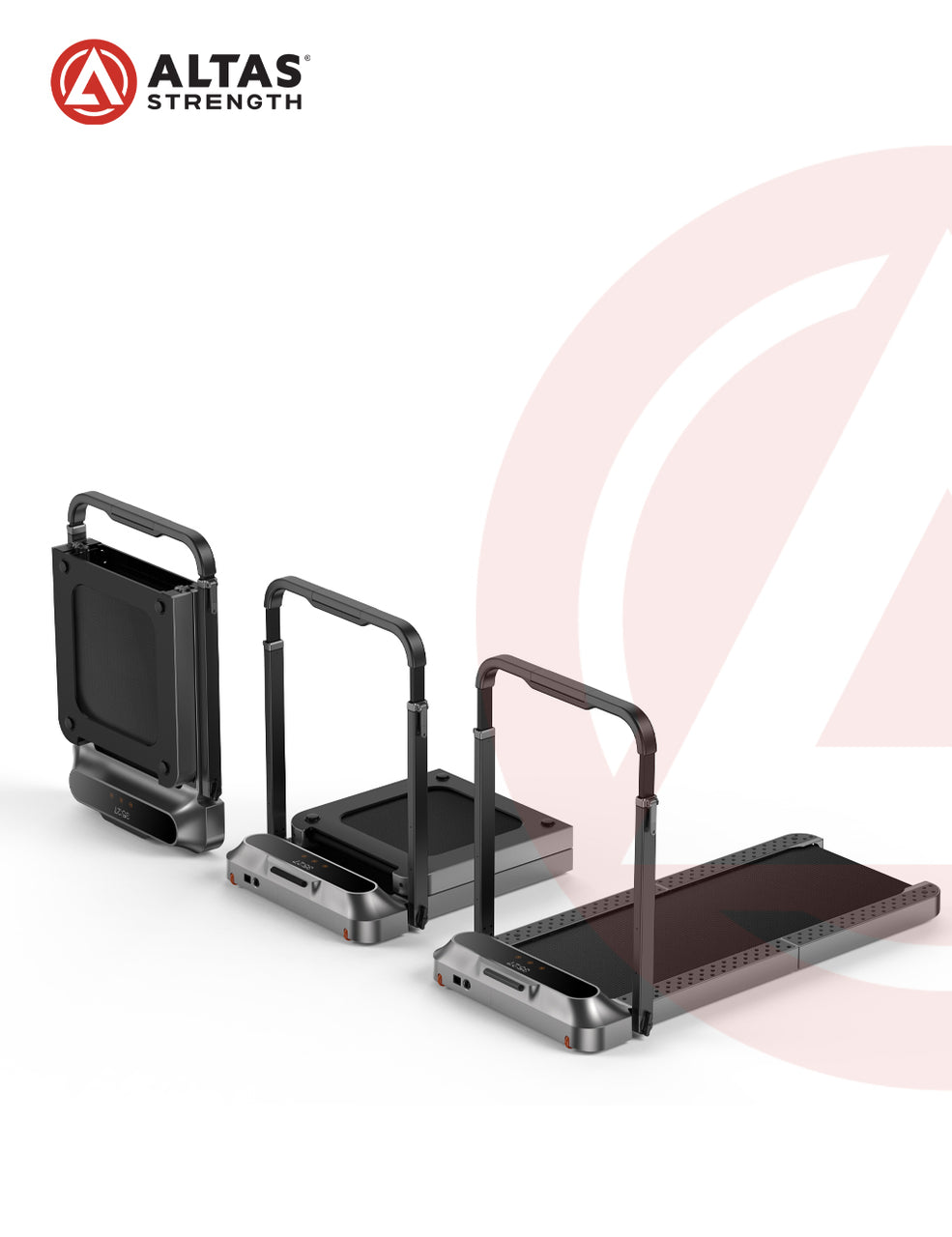 Compared to ordinary treadmills, our innovative folding treadmill can be easily folded down to flat and perfectly designed for walking. If you are considering an under-the-desk treadmill, the Altas T1 is perfect for putting under a desk or table to use while working or watching movies because of its compact size. You may want one treadmill on wheels so that you can easily move and store it when it's not in use, the T1 is also a good choice with smooth-rolling wheels.

[LED panel &Remote Controller & KS Fit App] – The LED panel is set up in front of the bottom of the machine, it can help you detect your speed, distance, and workout time. It offers a Bluetooth connection to the Remote controller & KS Fit App. Alternatively, it can be controlled by feet under the auto mode to provide greater convenience. The KS Fit APP course covers a variety of training goals, from warm-up to fat burning, you can freely choose the difficulty, select courses with one button, and automatically adjust the speed throughout the process, so you can run freely with your hands-free. Connected to the KS app, it can also record running data in real-time. It can scientifically help you plan the exercise intensity and content to make your exercise more effective.

[Professional Design]-The innovative treadmill design and the high-elastic running board form a shock-absorbing platform, which can better resolve the impact force received by the knees when walking, and absorb the force when the soles of the feet land, to achieve the effect of protecting the knees, allowing you to exercise more assuredly.

[Solid construction Less Noise] — It adopts an air suspension structure, is equipped with a high-performance motor, integrates the double-layer shock absorption design into the treadmill, and cleverly adapts the noise reduction method so that you do not need to worry about the trouble caused by noise, whether in the middle of the night or in the early morning and allows you freedom to exercise anytime.
Weight: 42 kg